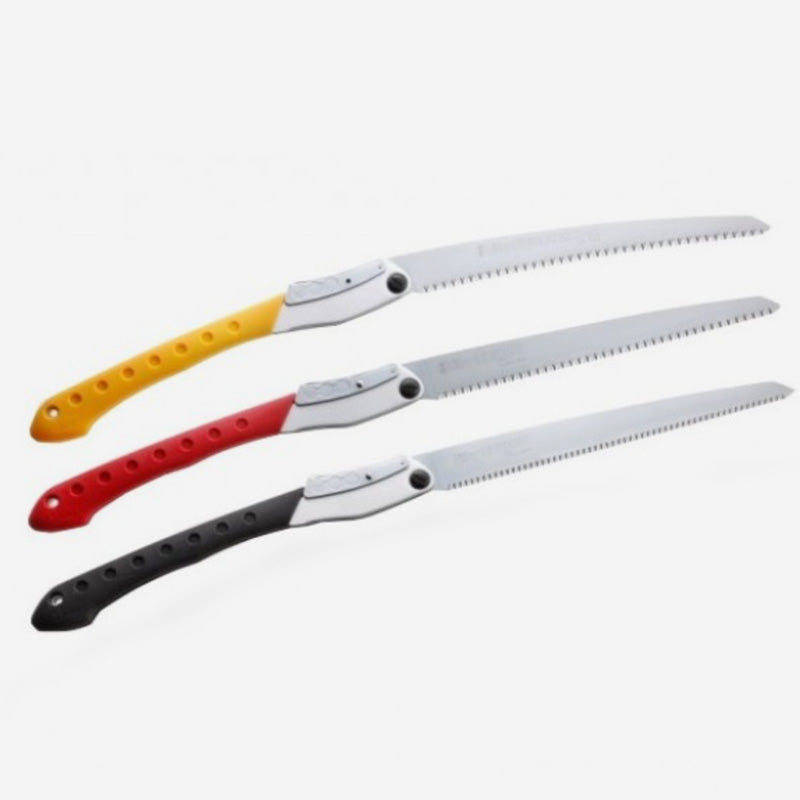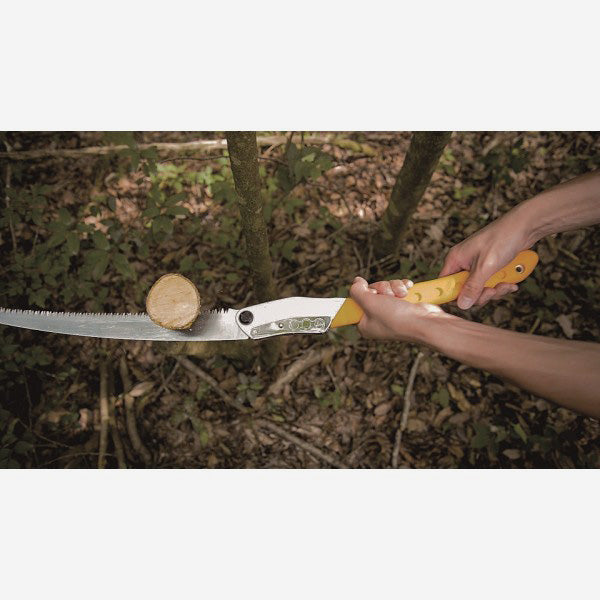 Big Boy Folding Saw 360mm
350-36
---
$12.95 Shipping Australia Wide.
International Shipping calculated at checkout.
In stock, ready to ship

Stock Incoming
The Silky Saw Big Boy 360mm Large Folding Saw from Japan is able to tackle small to large branches and has an incredible cutting capacity.
Medium Tooth: A great general purpose, can cope with small branches and okay with large ones too. 
Large Tooth: this size tooth is ideal of large branches and sappy green wood  
Extra Large Tooth: These are to be used as an alternative to a small chainsaw. Believe it or not you can cut a 30cm log with one of these. 
The teeth taper in thickness from large at the handle to small at the tip. The style of tooth also cuts a larger hole than the width of the blade reducing the change of the blade getting jammed in the cut.
This saw features a rust-resistant, hard chrome-plated blade to provide fast, clean, and an extremely smooth cutting action. The blades are made out of a high carbon steel which is both strong and flexible.
The Bigboy blade has two settings. The first is a standard saw blade angle, the second has the blade pointing into the air. This angle allows you to cut to a flat surface or enables you to have the handle away from branches that are slowing and inconveniencing your cutting.
The handles are made out of a special award winning rubber called GOM which makes it comfortable to hold. The rubber handle acts to absorb alot of the vibrations you get when cutting and allows for a good grip even when wet.
All parts on the Big Boy Saws are replaceable i.e. screws, blades, and handles. If you would like to order spare parts for this saw, please contact us with your request.
SKU 350-36  Med Tooth  Black Handle

Blade length:- 360mm or 14.2 inches
Teeth per 30mm/in:- 10/8.5
Weight:-450g
SKU 354-36  Lge Tooth   Red Handle

Blade length:- 360mm or 14.2 inches
Teeth per 30mm/in:- 7/5.9
Weight:-450g
SKU 356-36  Ex Lge Tooth  Yellow Handle

Blade length:- 360mm or 14.2 inches
Teeth per 30mm/in:- 6.5/5.5
Weight:- 440g
CHRISTMAS SHIPPING CUT OFFS:
Based on Australia post guidelines you will need to get your orders in by the follow dates to ensure pre Christmas delivery. Please note that from past experience it is better to order well before these dates or via express post to be sure.
PARCEL POST $12.95
WA, NT: 13th December 1pm
Rest of Australia: 17th December 1pm
EXPRESS POST $19.95
Shipping within your state: 21st December 1pm
Shipping Interstate: 19th December 1pm
Orders are shipped 2-4 business days after placement and are sent via Australia Post. You will be supplied with a tracking number once shipped so you can keep track of where your parcel is at.
Please allow 5 business days for delivery and 10 business days for Western Australia, Northern Territory and Tasmania. 
Orders placed on a Saturday or Sunday will be processed the following Monday or Tuesday.
Australian Shipping Rates
A $12.95 AUD flat rate shipping fee applies on all orders.
If you require your parcel more urgently they you may select Australia Post Express Post shipping for $19.95 AUD which should arrive 1-2 business days after dispatch (location dependant).
If you have any concerns please don't hesitate to get in touch with us by emailing info@woodtamer.com.au
Wood Tamer ships it's range of Spoon Carving tools Worldwide!
International Shipping rates are calculated at checkout based on the weight of your parcel. Express and Standard shipping are available.
New Zealand Shipping Rates. Shipping is available at rates calculated at checkout (weight dependant). Below is a guide only. Please allow 7-10 days for your parcel to arrive.
| | |
| --- | --- |
| Weight | Pricing |
| < 500g | A$20.00 |
| < 1kg | A$25.00 |
| < 1.5kg | A$30.00 |
| < 2kg  | A$35.00 |
| < 2.5kg | A$40.00 |
| < 3.0kg | A$45.00 |
| < 3.5kg | A$50.00 |
Talk to a REAL person who is as passionate about carving as you are. Call us between 8am and 5pm on 0413 154 024 or SMS anytime and we answer your questions or get back to you as soon as we can.